HostMonitor and RCC improvements

Historical charts improvements
(Test History, Network map, Super matrix, Sysinfo windows)

1) Detailed mode for Performance charts
History-related windows may display charts using 2 modes:
brief (works without log files, supported since version 8)
detailed (new mode, requires new kind of logs: compact logs)
HostMonitor automatically chooses detailed or brief mode for charts. If you just installed HostMonitor version 13, there are no data yet so Brief mode will be used. After 5-10 minutes HostMonitor may switch to Detailed mode for some time intervals (Today; Last 24 hours). In couple days HostMonitor may enable Detailed mode for [Yesterday], [Last 48 Hours], [Last 7 days], [Last 14 days] time intervals. And finally Detailed mode will be enabled for [This month], [Last 30 days], [Last moth], [Last 60 days] intervals.
Note #1: [This year], [Last year], [Last 12 months], [Last 24 months] - only brief mode supported for such time intervals.
Note #2: If you disable
compact logs
, only brief mode will be used.
| | |
| --- | --- |
| | |
| brief | detailed |
Test History window improvements
2) RCC (Remote Control Console) may show time offset in History window title (when time on HostMonitor system is different from RCC time)
3) Zoom/Unzoom operations adjust time labels. Various formats can be set depending on selected time interval:
day of the month
day of the week (day of the month)
day of the week
day of the week hh:mm
hh:mm
hh:mm:ss
(note: you may zoom in chart when single test item selected)
4) Charts can be updated by timer so you may keep Test History window open and you will see updates. Refresh rate depends on selected time interval: 5min for daily charts; 1 hour interval for weekly charts; 2 hours interval for monthly charts.
5) New popup menu items tells HostMonitor to copy raw data from chart into clipboard
Copy to CSV
Copy to CSV all tests (available when several tests displayed)
6) New popup menu item: Show min values -> Auto, On, Off modes
7) If you open Test History window for 2 or 3 selected test items, charts will be located one below another. Horizontal mode allows to see more details on the charts
8) "Same scale for all" option was replaced with "same scale for groups", it sets the same scale for groups of selected tests. For example:
if you select CPU Usage and Drive Free Space test and open Test History window, then HostMonitor will use one scale for CPU tests and another scale for drive free space tests
if you open Test History window for Drive Free Space tests some of which use GB units while others display percent of free space, then HostMonitor will use one scale for tests with "%" units, other scale for tests with "GB" units
if you open such window for CPU Usage, Ping, Trace and Traffic Monitor test items, then HostMonitor will use one scale for Traffic Monitor tests, another scale for CPU+Ping+Trace test items
9) Other minor improvements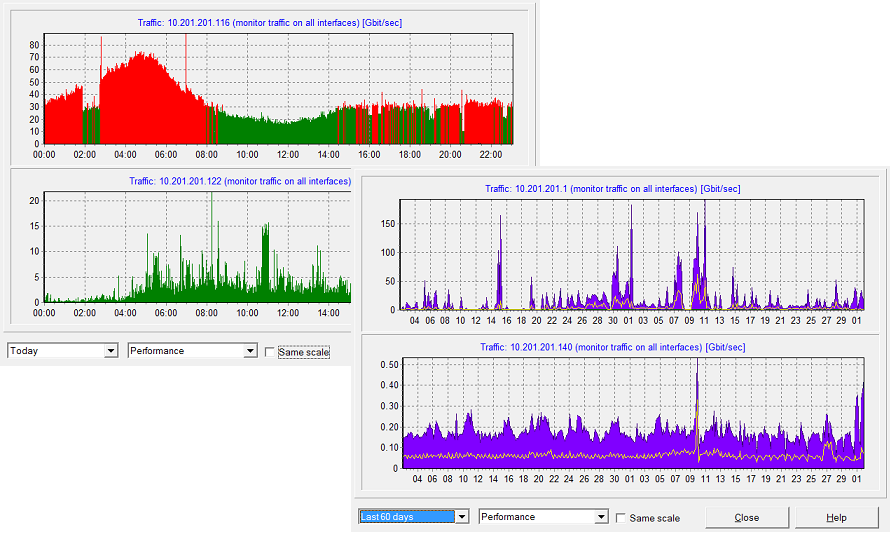 ---
Compact logs
If you are using Brief or Midnight mode for Primary/Backup log files while you need detailed historical charts (Test History, SysInfo, SuperMatrix, NetMap windows), you may enable Compact logs. HostMonitor will store extra data in specified folder, keep results related to last 2 months and remove older data.
If you are using Full logging mode for Primary log file, you still may like detailed charts because HostMonitor charts can be displayed within 1 second while Log Analyzer may need a minute in order to parse large log files.
Disk space requirements
If you set 100,000 test items and HostMonitor performs over 1,000 tests per second, such data files may consume about 10GB of disk space.
If you set just 5,000 test items and perform 50 tests/sec, then data files will consume about 500MB of disk space.
See Options dialog -> Log settings -> Compact logs page
---
Auditing Tool improvements
Log Files page
Some customers have just 2-3 log files - one log file with test results (common log), single system log file and user operations log.
Other customers may have thousand log files:
common log file(s) with test results, changed monthly, weekly or daily
private log files for 30,000 test items (each of 30,000 logs can be changed on regular basis as well if you are using file name like %TestID%-%yyyymmdd%.log)
system log files (can be changed on regular basis as well)
user operation logs
compact log files
There are
log processing
options but some customers do not setup HostMonitor to remove old log files automatically and keep 500,000 forgotten log files.
Auditing Tool finds and displays all log files in a single table. It shows file name, size, age, type of the log and location. In some cases it shows summary - single record with size of all *.txt or *.clg files in the folder.
You may sort items by any field (e.g. name, size, age) and use popup menu items in order to remove unnecessary files.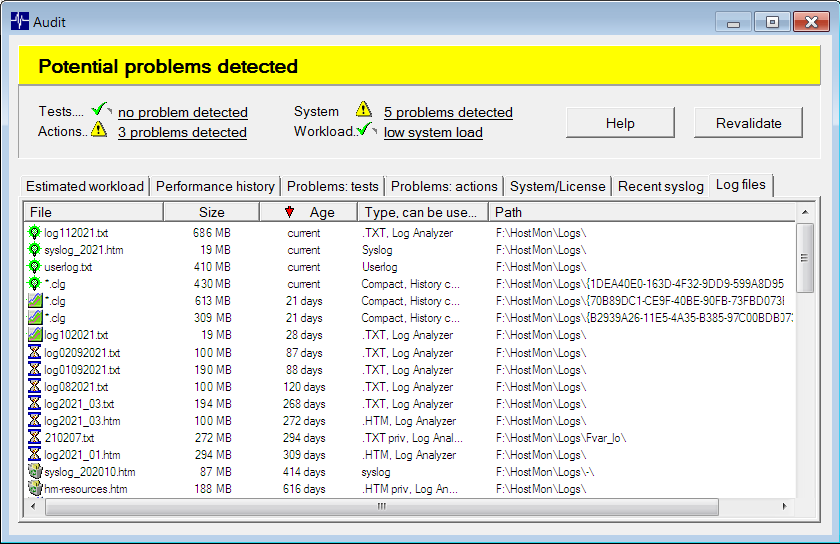 ---
Various GUI improvements related to the following windows
Mail Profiles
Action Profiles
Report Profiles
Recent Events
Auditing Tool
SNMP Credentials
Minor performance improvements
HTTP Request action: you can add
hmvars: text
HTTP header into HTTP/HTTPS request. In this case HostMonitor will not encode variable values, will not apply JSON or HTML encoding rules
---

The following issue was resolved
E-mail test method: under some conditions HostMonitor could repeat test again and again every second. Fixed